13 septembre 2008
Ce soir on sort ! / It's time to party !
Ce soir je sors et j'avais envie d'un superbe MU. Je suis tombée sur un superbe make-up sur le site d'une youtuber plus que douée : http://www.xsparkage.com/?p=147#more-147 . Je l'ai refais à ma façon et avec ce que j'avais (il faut absolument que je m'achète le pigment Teal !). Voilà ce que ça donne.
I'm out today so I wanted to do a beautiful makeup. I found a wonderful MU on Xsparkage's website (Guru on Youtube). I did it in my way and with what I own. I really really need Teal Pigment !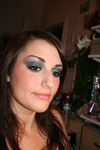 Teint / Foundation :
Sisley Phyto teint éclat (2) Soft Beige
Estée Lauder So Ingenius Poudre Libre (01) Light
Dior Poudre de soleil (010) Bonne mine

Yeux / Eyes :
MAC Fard poudre pour les sourcils Ivoire/Walnut
MAC Prep + Prime Eye Medium
MAC Shadestick Sharkskin
MAC Pigment Dark Soul (en coin externe et sur le creux large / outer lid and above the crease)
Lancôme FAP Ombre Absolue Madame Butterfly (sur la paupière mobile / on the lid)
MAC FAP Forgery (en touche lumière / highlight)
Chanel Khôl Noir
Dior Style Liner Intensité Eclat Noir
Dior Maximeyes Black
MAC Faux cils 21
Joues / Cheaks :
Lèvres / Lips :
Dior RAL Dior Addict Rose Variation
Dior Dior Addict Ultra Gloss 573
(Clic sur les photos pour les agrandir / Click on pictures to enlarge)
Commentaires
Poster un commentaire