30 septembre 2008
Bronzey
Pas d'idée précise sur ce que j'allais faire comme MU aujourd'hui. J'étais d'abord partie sur une idée de combinaison entre Clarity et Shadowy Lady. Puis en naviguant sur le Myspace de Monroemisfitmakeup (devant qui je suis en totale admiration, je la vénère cette fille) je suis tombée sur ceci :
No inspiration today until I find this MY from Monroemisfitmakeup on Myspace. Really love her !

Bronzey Natural

J'adore et je veux faire un truc dans le style... En y apportant ma petite touche perso.
Donc adaptation du RAL avec ma couleur de cheveux pour garder une harmonie.
Voilà le résultat :
I love the MU so I did something like it with my touch. I change the lipstick.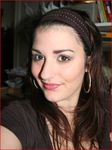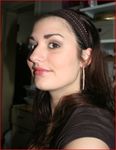 Teint / Foundation :
Estée Lauder Advanced Night Repair
Estée Lauder Hydra Complete
Sisley Phyto teint éclat (2) Soft Beige
Estée Lauder So Ingenius Poudre Libre (01) Light
Dior Poudre de soleil (010) Bonne mine
Yeux / Eyes :
MAC Fard poudre pour les sourcils Ivoire/Walnut
MAC FAP Retrospeck (en interne et en touche lumière / inner lid & highlight)
MAC FAP Goldmine (sur la paupière mobile et sous les cils inférieurs / on the lid & lower lash line)
Bourjois FAP Duo ombre à paupières & Contour (17) Golden Glamour (les deux teintes sur le creux large / both above the crease)
Dior FAP 5 couleurs Night Dust Brun (en externe / outer lid)
MAC FAP Pandamonium (en externe en V, très très légèrement le long des cils supérieurs et sous les cils inférieurs / outer lid on the V, a lil bit on the up and lower lash lines)
Gemey Maybelline Crayon Oriental Khôl Noir (sur la waterline / waterline)
Dior Maximeyes Black
Joues / Cheaks :
Lèvres / Lips :
Luminelle Crayon contour des lèvres Naturel
Gemey Maybelline RAL Framboise perlée
Yves Saint Laurent Gloss Golden Gloss
(Clic sur les photos pour les agrandir / Click on picture to enlarge)
Commentaires
Poster un commentaire